Health and Safety (COVID-19)
Health and Safety (COVID-19)

Since the start of the pandemic back in 2020 until present, TAV Macedonia, as airport operator of both airports, Skopje International Airport and Ohrid St. Paul the Apostle Airport, is doing its best to reassure you that you can feel safe while traveling through our airports.
Aviation industry's best practices coupled with the national and international health authorities' recommendations have been mirrored into the Airport Pandemic Protocol serving as our guide to protect and to make safe and healthy environment for our personnel and for our passengers and clients.
We have committed our efforts and know-how to make out airports safe for your journeys and for your new adventures again.
Our cleaning, disinfection and hygiene maintenance plan is designed in a way that you should not have any concern for your health and safety while at the airport.
Our experienced staff is here to guide you and assist you, to ensure healthy and safe environment for you.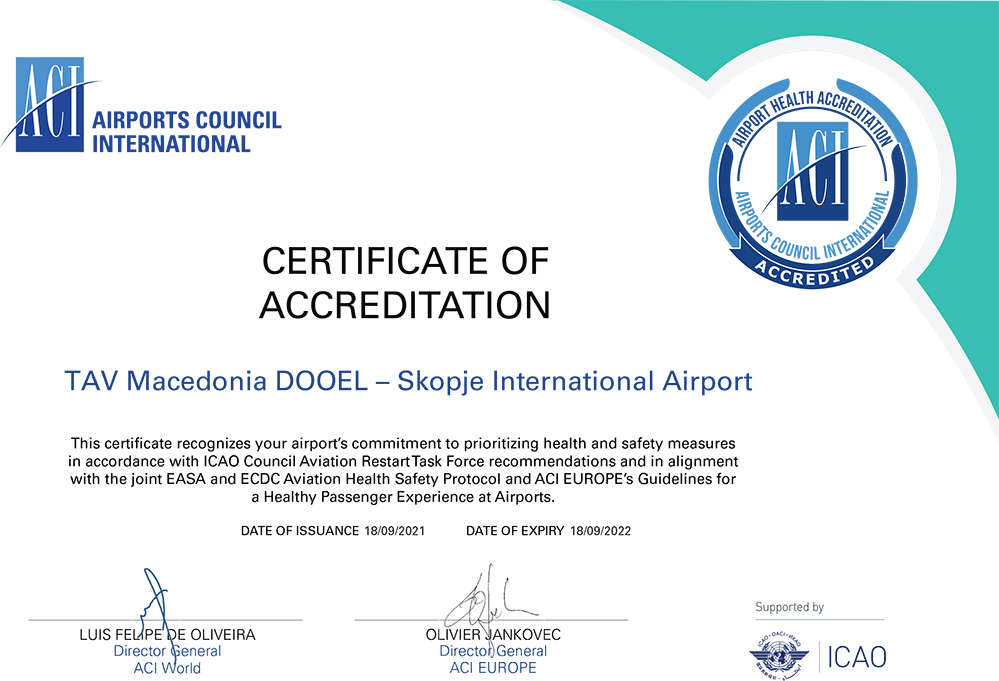 SKOPJE AIRPORT HEALTH ACCREDITED BY ACI
As a result of the implementation of the new Airport Pandemic Protocol TAV Macedonia has implemented in 2020, Airports Council International (ACI) accredited Skopje International Airport in

ACI's Airport Health Accreditation Program

.
The Health Certificate is a new international health benchmark for airports around the world, designed to help reassure the travelling public that airport facilities remain safe and that precautions are being taken to reduce any risk to their health.
COVID-19 TESTING AT SKOPJE INTERNATIONAL AIRPORT
In order to respond to the requests for COVID-19 tests as a precondition for travel by an airplane and entrance in EU/Schengen countries, TAV Macedonia, as an airport operator with the clients and customers being its top priority, once again reacted and responded promptly and came up with a solution for rapid antigen tests performed at Skopje International Airport shortly before the passenger gets onboard.
In front of the terminal building of Skopje International Airport, near the entrance "Departures C", there are testing facilities of authorized laboratories where passengers can perform the required COVID-19 test and obtain the result within 20 to 30 minutes of sampling.
For detailed information about the tests accepted by the countries of EU / Schengen, please contact your

airline

and the

Embassy

of the country of your arrival
If you decide to perform a rapid antigen test at Skopje International Airport, please arrive at the airport at least 4 hours prior the departure time of your flight.

Given that the EU/Schengen countries are constantly changing their travel rules related to COVID-19 and each country independently makes changes in terms of restrictions for the citizens of the Republic of North Macedonia, we appeal travelers to check the latest requirements with their

airline

and the

Embassy

of the country they plan to arrive.
Frequently Asked Questions
There is regular shuttle bus to/from Skopje International Airport for passengers that drives and stops at key bus stops throughout the City of Skopje and arrives at the airport. V2V Transporter manages and operates the shuttle buses for passengers. The shuttle bus timetable is prepared according to the arrivals/departures of flights at Skopje International Airport. One way ticket for the shuttle bus costs MKD 199. You can find more information in Passenger guide section on our the webpage, or click Bus.
Skopje International Airport operates 24/7. Restaurants and cafes such as Cakes & Bakes, Café In, Burger King and NeedStop are available for the passengers at any time; business lounge (PrimeClass CIP Service) offers you comfort 24/7, while ATU Duty Free is opened as per the flights timetable and offers wide range of products.
Check-in at the passenger and baggage check-in counters starts 180 minutes (3 hours) before the scheduled time of departure (STD) specified on your flight ticket. The closing time of the airport check-in counter is no later than 60 minutes before STD stated on your flight ticket.
Since the beginning of COVID–19 pandemic, due to the requirements for different travel documents imposed by different countries, TAV Macedonia appeals to passengers to arrive at the airport 3 hours before take-off.
For information about your flight, please follow Skopje International Airport website, in the Arrivals and Departures section, where all changes to the flights schedule are updated in real time, i.e., as we receive information by airlines.
If you need urgent additional information about your flight, you can call Skopje International Airport Information Desk on the phone number: +38923148333, it is open 24/7.
Passengers are allowed to carry on board free of charge items such as coat, 1 umbrella or walking stick, 1 ladies handbag, 1 camera or binoculars, 1 baby transporter, 1 pair of crutches or similar prosthetic aids, medical equipment on which the passenger is fully dependent, a reasonable quantity of baby food.
Regarding the baggage fees amount, please contact your airline, because each airline has its own baggage policy and applicable rules.
If you have any specific question about what you can or cannot carry, i.e. allowed/prohibited items, in your baggage, please send your question to our Customer Relations Department at customer.mk@tav.aero.
In case of lost or damaged baggage, please immediately go to the Lost & Found Department, which is located near the baggage claim area, i.e. in the Arrivals Area after Passport Control and before Customs Control.
Our employees from L&F will prepare a lost/damaged baggage report for you, that you'll later on send it to your airline. If you need to contact the Lost&Found department, please write us on: lostbaggage@tav.aero
For lost or found items on the plane, please contact us at the same email: lostbaggage@tav.aero
If you lose or find a personal item in the airport building, please report it immediately either to the Information Desk or to the Security staff, while if you have already left the airport, please write to us at lost.property@tav.aero
All details at:
http://skp.airports.com.mk/.../airport.../page/lost-luggage
Yes. Since 2015 TAV Macedonia has introduced free Wi-Fi internet at Skopje International Airport, which was upgraded in 2019. Passengers can access free internet through their mobile devices by simply connecting to a wireless network called TAV Airports, password is not required.
You can park your vehicle in our parking lot without prior reservation. This service is available 24/7 at Skopje International Airport.
Car Park Pricelist:
1h – MKD 100
2h – MKD 150
3h – MKD 200
4h – MKD 250
4-8h – MKD 500
8-24h – MKD 850
3-7 days – MKD 2500
8-14 days – MKD 3500
15-30 days – MKD 5000
For more information on parking services, please click on Parking.
Yes. At Skopje International Airport there are specially designated, marked parking lots for persons with disabilities and the car park services are free of charge within 24 hours. By enclosing the traffic license and the disability identification card at the Car Park Payment Counter, located inside the terminal building, our employees will cancel the car park ticket and the person with disability will be automatically exempt from paying for the car park service. If all designated parking lots for persons with disabilities are occupied, park your car on a regular parking lot, and following the above stated procedure you will be exempted from paying for the car park services.
For more information on parking services, please click on Parking or visit Passengers with disabilities.
Yes. At Skopje International Airport there is a Special Assistance Service for passengers with reduced mobility (PRMs). The counter where you can ask for this free of charge service is located inside the Terminal building, next to the Information Desk. Passenger with Reduced Mobility (PRM) means any person whose mobility is reduced due to physical incapacity (sensor or locomotor), intellectual deficiency, age, illness, or other cause of disability.
Yes. There is a smoking room at Skopje International Airport, which is located in the security-restricted area, airside. The smoking room is located next to Gate number 201, i.e., on the left side after you pass passport control and security screening.
In addition to the smoking room, passengers can use the open terraces of the cafeterias located at the entrance to the terminal building of the airport.
Smoking is prohibited in all other areas of the terminal building.
For general question or inquiry that does not require immediate response, or if you have any other complaint or compliment, please send an e-mail to customer.mk@tav.aero. This is our Customer Relations Department, which will respond to your inquiry accordingly as soon as possible..